Iconic style always makes a comeback and new generations always give it a fresh, new spin, so it's not a surprise that '90s fashion has officially come back around...in a new way!  Cell phones may have been as big as bricks and social media was simply playing a game of telephone with friends, but so many style trends from the 1990s still work today.
Though most of us probably don't rock plaid mini skirts and over-the-knee socks these days, it's impossible to deny that '90s movie fashion was on point.  No shade to some of the mainstream '90s movies— from "Clueless" to "Cruel Intentions" — but I dug through the VHS tape drawers for some iconic looks in '90s movies that you may have forgotten.  These are some of the best '90s movies to borrow 2019 style inspiration, from "Poetic Justice" to "Don't Tell Mom The Babysitter's Dead." 
The fashion in Penelope Cruz's breakout film, "Jamon Jamon", was simple and effortlessly sexy.
It's Penelope Cruz, so simple and sexy are synonymous BUT the red mini fit-and-flare sundress with espadrille platform sandals look is never wrong.  However, minimal makeup, loose hair and big gold hoops have the '90s written all over this look, but fresh for today.
Nia Long's jogging outfit in "Friday" is a staple for going out or running errands nowadays.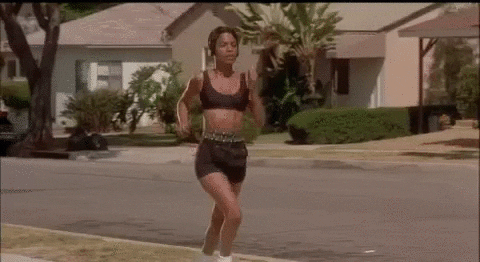 Don't mind the headphones tethered to the Walkman in a fanny pack...thankfully we're way past that.  We're not past the spandex shorts with a colorful band and tank bra though.  This look has definitely evolved past workout clothing into daily life.  Worn under a flowy sundress or throwing oversized denim over this fit, even wearing it alone, is a simple fashion statement that shows a lot of skin but is v comfy. 
"Kids" film defines the skater boy and hip-hop b-boy style.
Camo, baggy jeans (slung below CK boxers), bandanas, baby tees, backward caps, oversized men's tees, and hoop earrings?  All the req's for a chill, low-key vibe.  Mixing high / low, vintage / new is the key to pull this into 2019 for an anti-fashion and effortlessly unique look.
The category is...fashion and the fashion in "Paris Is Burning" is a ball, honey.
Culture and fashion collide in Paris Is Burning.  It's not just about fashion, it's about haute couture.  Labels on labels on labels on labels with an IDGAF attitude pulled off the iconic looks in this film.  The fiercest fashions (even if it's not high fashion) and proudly flaunting your stuff translates this to 2019.   
"Welcome To The Dollhouse"
I look back at photos of me as a kid in the 1990s and I question my parents:  were we destitute?  who gave me hand-me-down clothing because absolutely nothing fit me (I'm the only child)?  did you know there were stores other than Sears and JC Penney?  did you know stirrup pants don't compliment every body type (me, it does not complement me specifically mom)?  Neither does the full tuck t-shirt with mid-rise gym shorts.  However, this is a lewk right now.  I might try it with a half-tucked vintage t-shirt otherwise this movie is too painful for me to replicate but great for '90s style inspiration nonetheless.
Every character's outfit in "Poetic Justice" was classic.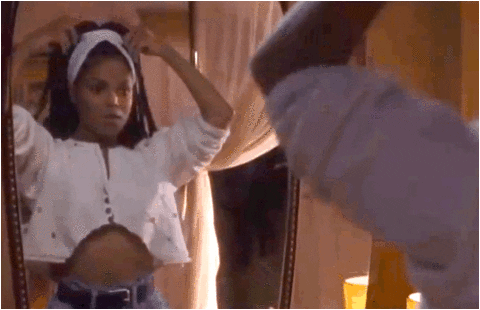 Janet's style was definitely the most iconic though.  We could go with the fitted black top and oversized jeans cinched with a big belt but let's focus on the look of the oversized white crop top, relaxed denim, and white turban headband.  Of course, the big hoops and box braids nail the laid back, around-the-way look.  
Nevermind the acid trip motel and wasteland of LA set design, your Tumblr dashboard probably confirms that "The Doom Generation" is one of the most stylish movies of the 1990s.  
There's a D.A.R.E to Keep Kids Off Drugs t-shirt, cat-eye sunglasses, a pink plastic jacket, homoerotic cowboy look, femme fatale red lips, and heavy-handed cat eyeliner application (to match the cat eye sunnies, of course).  If that sounds like a mishap, it's not and I recommend you (re) watch the film.  Not only for the fashion but for the dark humor and epic one-liners, as well.
"Don't Tell Mom The Babysitter's Dead" teaches us that you can be stylish and work appropriate, at the same time.
It also teaches us that prints and statement earrings are cool and timeless. 
Did I miss one of your favorites?  Shout it out below, so we're all in the know or give your respects to any '90s fashion you won't be bringing back this summer!